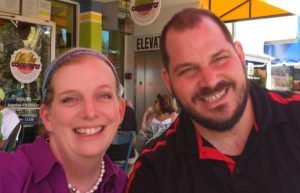 Hi! My name is Anne Elliott. I've been married to Kraig since 1993, and we have seven kids — ages 27, 23, 22, 20, 18, 15, and 13. We live in Michigan, where we homeschool our kids, write curriculum for homeschoolers, and are starting a local church. I don't have a lot of time for being in the kitchen or cleaning house!
I started this blog because of a comment I made on Facebook: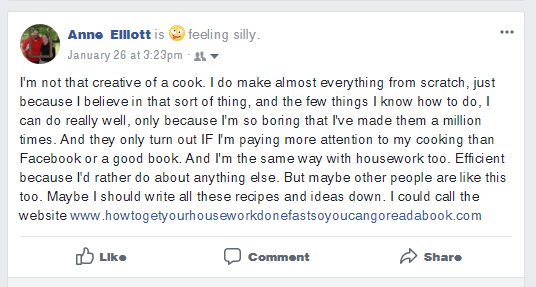 My oldest daughter said that she agreed — food was more fun when it was easy and comfort food, not complicated all the time! We just prefer to be doing other things.
It made me realize that I know a lot of tricks for getting in and getting out of the kitchen, or the bathroom when I'm cleaning. I know how to keep a house neat as I go so that I don't have to spend large hunks of time on cleaning. But I didn't know if I'd passed these recipes and tips on to my children.
So this blog is for my children first. But you are welcome here because I know your life is busy, too!
My food style is Michigan comfort food. My husband also loves to cook, and he's more exotic, trying foods from around the world, visiting new restaurants, and trying to make foods without a recipe.
I'm more simple. But if that's what you love, I hope you'll feel free to stick around.
Hugs,