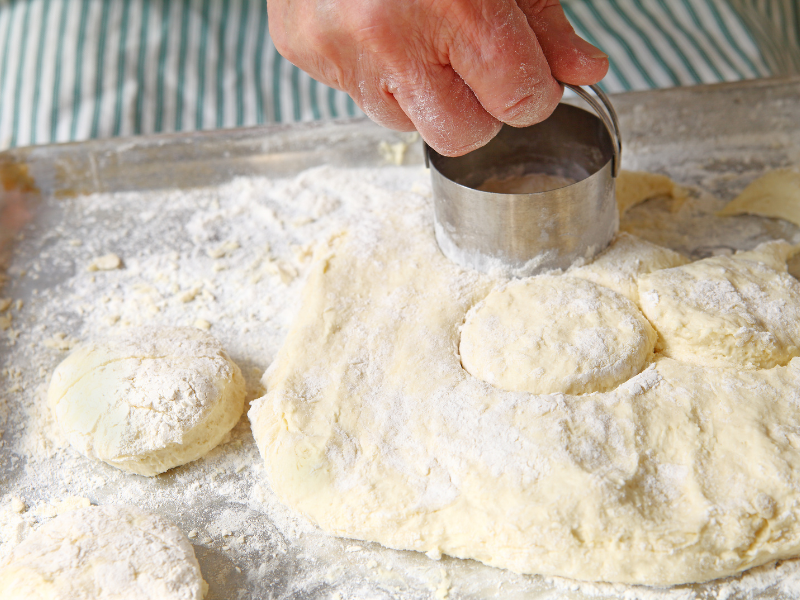 This old Southern recipe pleased a friend of ours who actually grew up in Georgia. That made this Michigan girl happy! We love serving these with homemade turkey-sausage gravy. Butter and honey also tastes great with them, or a little homemade strawberry jam. I have to double the recipe for our family.

1/4 cup butter
2 cups unbleached flour
1 tablespoon sugar
1 tablespoon baking powder
1 teaspoon salt
3/4 cup milk (approximately)
Preheat oven to 450 degrees.
Stir flour, sugar, baking powder and salt so that they are well combined. Using a pastry cutter or your fingers, cut butter into the flour mixture, until mixture resembles fine crumbs. The butter chunks will be about the size of a pea.
Stir in just enough milk so that the dough leaves the side of the bowl and rounds up into a ball. (Too much milk makes your dough sticky. Too little makes the biscuits dry.)
Turn the dough onto a lightly-floured countertop. Knead lightly 20-25 times, about 30 seconds. Don't overwork it!
Roll out the dough with a rolling pin, until it's 1/2 inch thick. Cut with biscuit butters. We use the top of a drinking glass.
Place the biscuits on an ungreased cookie sheet, with all the sides touching so that they will have crusty tops and soft sides.
Bake 10-12 minutes or until golden brown. Enjoy!