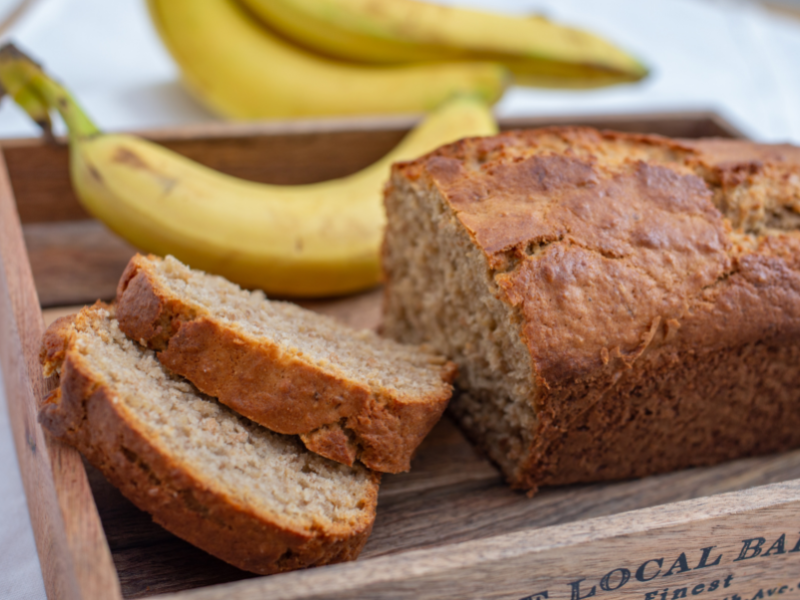 Here's a recipe I've been making for over 30 years. I first made it from my mother's Betty Crocker Cookbook, which she gave me a copy of for my wedding. When my children were young, they loved to pull stools all around the kitchen counter and "help" me make this, which mostly consisted of smushing bananas and licking spoons and bowls. I'm posting this recipe for my daughters and daughters-in-law, so that we can keep passing it down the generations.

If you don't have buttermilk, simply add a teaspoon of lemon juice or vinegar to 1/2 cup milk. Stir and let sit on the counter for 20 minutes or so.
You can freeze leftover bananas ahead of time. Just peel a banana, stick it in a zip-top bag, then freeze it. Defrost it a few hours before wanting to make this recipe.
Banana Bread
1 1/4 cup sugar
1/2 cup butter, softened
2 eggs
3-4 bananas, very ripe
1/2 cup buttermilk
1 teaspoon vanilla
2 1/2 cups flour
1 teaspoon baking soda
1 teaspoon salt
1 cup nuts, finely chopped (optional but good)
Preheat oven to 350 degrees. Grease the bottoms only of two loaf pans (8 1/2 x 4 1/2 x 2 1/2 inches).
Mash bananas in a small bowl.
In a large bowl, mix sugar, butter, and eggs. Add bananas, buttermilk, and vanilla. Beat until smooth.
Add flour, baking soda, and salt. Stir just until moistened. Gently stir in nuts.
Pour batter into the two loaf pans. Bake 1 hour, or until a toothpick inserted into the center of a loaf comes out clean.
Cool 5 minutes. Loosen sides of loaves from pans, then remove from pans and cool on a wire rack. Cool completely before slicing—if you can make it that long! They will slice much better when cool.
Wrap tightly and store at room temperature for up to 4 days. Ours never last that long. 😉