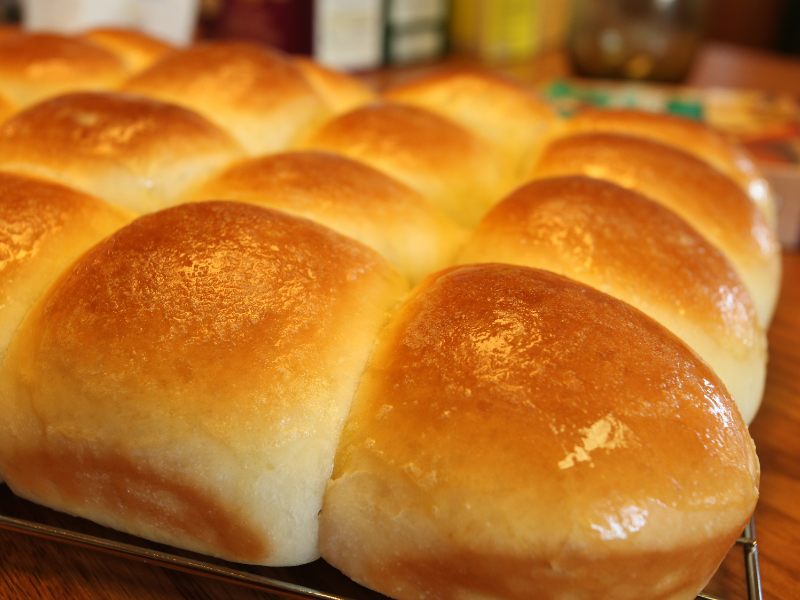 I first started making this recipe from an old Betty Crocker cookbook I got for a wedding present. (That was over 30 years ago!)
Delicious Dinner Rolls

Yield: 48 rolls
7 to 7 1/2 cups unbleached flour
1/2 cup sugar
1/2 cup butter, softened
2 tsp. salt
1 1/2 tbsp. yeast
1 cup very warm water (almost to the point of burning your finger but not quite)
1 cup very warm milk (almost to the point of burning your finger but not quite)
2 eggs, beaten
1/4 cup melted butter for brushing on the top of the baked rolls
Mix 4 cups of the flour, along with sugar, butter, salt, and yeast, in your mixing bowl. Add warm water, warm milk, and eggs. Beat on low speed for about a minute, scraping the bowl frequently. Let this stand for about 10 minutes.
Add in enough remaining flour to make the dough easy to handle. When I use my Bosch mixer, the dough cleans the sides of the bowl, just barely, and that's how I know I've added enough flour. Continue mixing for about 5 minutes, until the dough is easy to handle. If you don't have a mixer that can handle bread dough, turn the dough onto a lightly floured surface. Knead the dough by had for about 5 minutes or until smooth and elastic.
Place the dough in a greased bowl and turn greased side up. Cover and let rise in a warm place for about 1 hour or until double. (Dough is ready if indentation remains when touched.)
Punch down dough. Using a dough cutter, make 48 balls of dough, about each size as each other. Shape into balls, and place 24 of them into a greased 9×13 glass pan. I do 6 rows with 4 balls in each row. Place the second 24 balls into a second greased pan.
Cover and let rise a second time, which is about 30 minutes, until the dough balls are about double in size.
Heat the oven to 400 degrees. Bake for 12 – 18 minutes, or until golden brown.
Immediately brush melted butter over the top of the rolls.