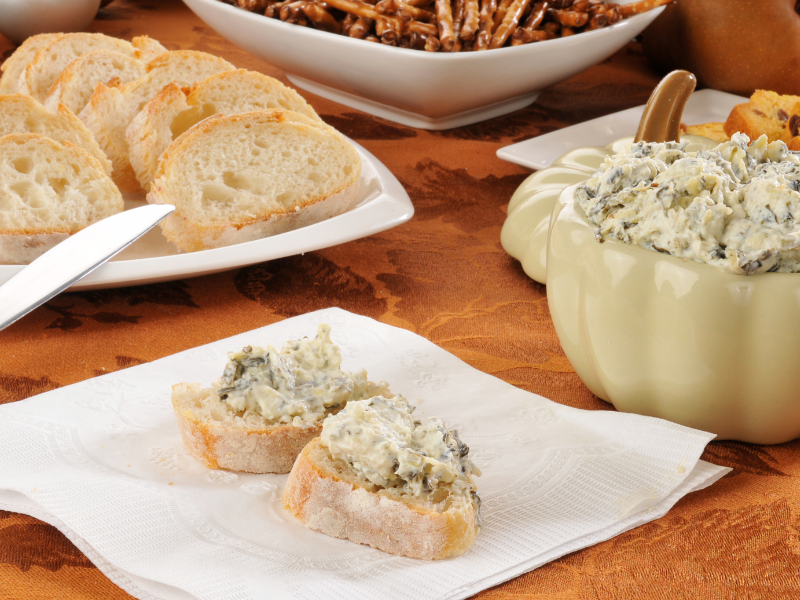 I've always loved this dip. It's so easy to make, but it's fantastic with toasted sourdough slices. I could eat the whole thing!
8 ounces cream cheese (room temperature)
1/2 cup sour cream
1/2 cup mayonnaise
14 ounce can artichoke hearts, drained and chopped
1/2 cup frozen chopped spinach, thawed and liquid squeezed out
1 cup grated Parmesan cheese
1/2 tsp. crushed red pepper flakes
1/4 tsp. salt
1/8 tsp. garlic powder
dash of pepper
Preheat oven to 350 degrees F.
In a mixing bowl, mix together cream cheese, sour cream, and mayonnaise.
Add artichoke hearts, drained spinach, 3/4 cup of Parmesan cheese, red pepper flakes, salt, garlic, and pepper. Combine until smooth.
Place in a greased 8×8 baking dish. (A glass pie dish would also work well.)
Sprinkle remaining Parmesan cheese on top.
Bake in preheated oven for about 20 minutes or until hot and bubbly.
Serve warm with crackers, chips, or sliced toast.
Note: This can also be made ahead in a slow cooker, cooked on high for 2 hours. Stir well before serving.