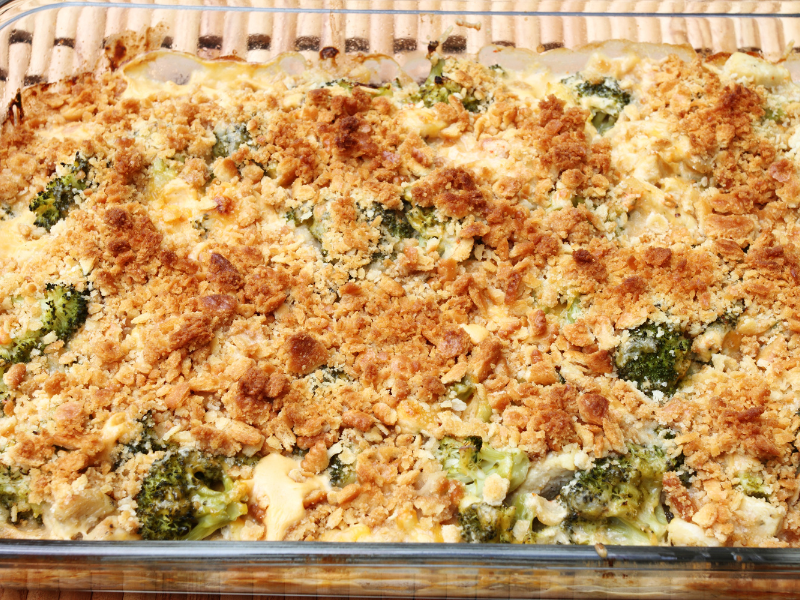 One of my visitors asked if I would adapt a chicken casserole recipe that her family loves. The original recipe contained a can of condensed cream-of-chicken soup and a topping of Ritz crackers. Since both of these contain ingredients that are hazardous to our health, this new recipe features great taste but healthy, from-scratch ingredients.
Chicken Casserole
4-6 boneless, skinless chicken breasts
2 cups creamy chicken sauce (recipe below)
8 ounces Daisy sour cream
salt and pepper
garlic powder
fresh (or frozen and thawed) broccoli florets
shredded cheddar cheese (approx. 4 oz.)
grated parmesan cheese (approx. 1/2 cup)
homemade garlic breadcrumbs (recipe below)
Lay chicken breasts in a casserole dish. Place broccoli florets around the chicken breasts, around the edge of the dish. Sprinkle with salt, pepper, and garlic powder.
Mix creamy chicken sauce and sour cream together. Pour over chicken and broccoli. Sprinkle cheeses on top, then finish with a layer of bread crumbs.
Bake at 350 degrees for 45 minutes or until chicken is done. (I cover for the first 25 minutes or so.) Serve with rice.
Optional: Kick it up a notch by adding a few teaspoons of cayenne powder, sage or cumin. I also enjoy freshly ground spices, such as Simply Organic's Grinder Top Spices.
Another option is to cook the rice first, combine the rice, broccoli and sauces, and add them to the casserole dish first, layering the chicken on top, topping with cheese and bread crumbs.
Creamy Chicken Sauce
1/2 cup butter
1/2 cup unbleached flour
1 teaspoon fish sauce OR Celtic Sea Salt
1 teaspoon freshly ground pepper
1/2 teaspoon garlic powder
1 cup homemade chicken stock
1 cup milk
Melt butter over medium heat. Add flour and seasonings and whisk together until the mixture turns a light brown. Add chicken stock and milk, and bring to a boil, stirring constantly. Continue stirring for one minute. Remove from heat.
Garlic Breadcrumbs
several slices of homemade bread
butter
garlic powder
Spread butter and garlic powder on bread slices, and place under broiler or in a toaster oven. Toast until crispy. Add to a blender or food processor, and process into fine crumbs. (Optional: Put the toasted slices in a ziplock bag, and let your young children pulverize them into fine crumbs.)
Use immediately or store in freezer.