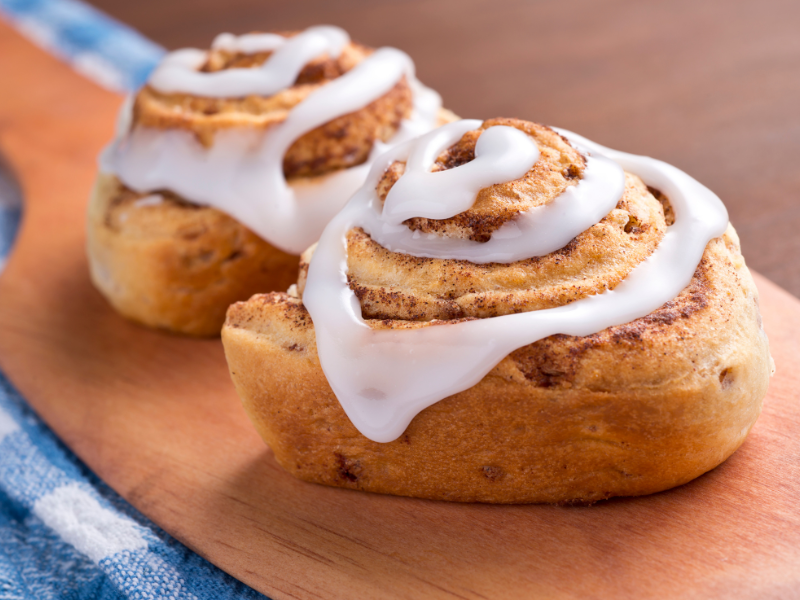 Yield: 24 large cinnamon rolls
Dough:
1 1/2 tablespoon yeast
1 cup warm water
1 cup warm milk
3/4 butter, melted (1 1/2 sticks)
1/2 cup sugar
2 teaspoons salt
2 eggs
7-8 cups flour
I warm my ingredients in the microwave, in a 2-cup glass measuring cup. First I warm the water and milk. As long as it's not too warm to burn my finger, I know it won't kill the yeast. The butter can be melting while I add the other ingredients.
Cinnamon Roll Instructions:
Add yeast to the mixer bowl.
Warm water and milk, then add to the mixer bowl.
Melt butter, and while it's melting, add the sugar, salt, and eggs to the mixing bowl.
Add one cup flour, then mix it all together for about one minute.
All yeast mixture to sit, covered, for 10 minutes.
Gradually add the remainder of the flour, kneading until it cleans the sides of the bowl.
Continue kneading in the mixer for 5-6 minutes.
Allow dough to rise for 1 1/2 hours, covered and in a warm place. Punch it down if necessary.
Filling:
3/4 cup butter, melted
1 cup brown sugar
3 tablespoons ground cinnamon
1/2 cup finely chopped walnuts (optional)
3/4 cup raisins (optional)
Filling Instructions:
Grease two 9×13 glass pans with cooking spray or melted butter.
Punch down dough. Divide the dough into TWO batches.
Roll out the first batch of dough on a slightly greased counter top, until it forms a 15×9-inch rectangle. (Allow the dough to rest for a couple minutes if you are struggling to get it to roll out.)
Spread HALF of the melted butter all over the dough.
Mix the brown sugar, cinnamon, and chopped walnuts in a bowl.
Sprinkle HALF over the buttered dough.
Sprinkle HALF the raisins over the top.
Beginning on the long side of the rectangle, roll up the dough to make a 15-inch log.
Cut into 12 slices. Place the cinnamon roll slices close together into a glass pan.
Repeat with the other batch of dough.
Sprinkle any remaining butter or sugar mixture over the top of the roll slices in the glass pans.
Let the cinnamon rolls rise until doubled, about 45 minutes.
While they are rising, preheat oven to 350 degrees.
Bake for 25-30 minutes.
Glaze:
4 ounces cream cheese, softened
1/4 cup butter, softened but not melted
1 – 1 1/2 cups powdered sugar
2 teaspoons lemon juice
1 teaspoon vanilla
1/4 teaspoon salt
Glazing Instructions:
Mix all ingredients together.
Gradually add 1 tablespoon of hot water and continue to mix, until the glaze reaches your desired consistency. (Some people use milk.)
Spread over slightly cooled rolls.