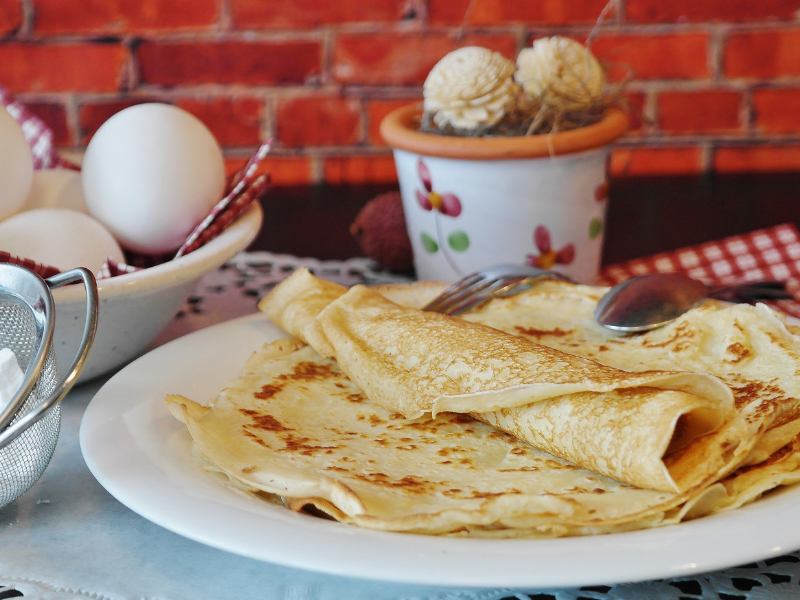 My husband taught me to make these crepes when we were first married. It used to be a Saturday morning tradition. Now that we keep Sabbath, it's a Sunday morning tradition! They taste just like crepes made in France! Mmmm…
Yield: about 20 6-inch crepes
3 eggs
3 tbs. melted butter
2 cups milk
1 ½ cups flour
¾ tsp. salt
Place ingredients in a blender container in the order listed. Cover and blend on high 20-30 seconds. Scrape down sides of container. Blend a few more seconds.
The best pan for making crepes is one that is as flat as possible, but any skillet will do.
Pour 2-3 tablespoons of batter into a very hot, lightly greased pan. Quickly tilt the pan so the batter covers the bottom entirely. The crepe is ready to turn when it begins to set and crisp around the edges. Carefully flip it over and cook for a short time on the second side.
Crepes can be filled with any number of delicious things. We love Nutella, sour cream and fruit jams, or anything you'd eat with pancakes. It looks beautiful to sprinkle a little powdered sugar over the top.