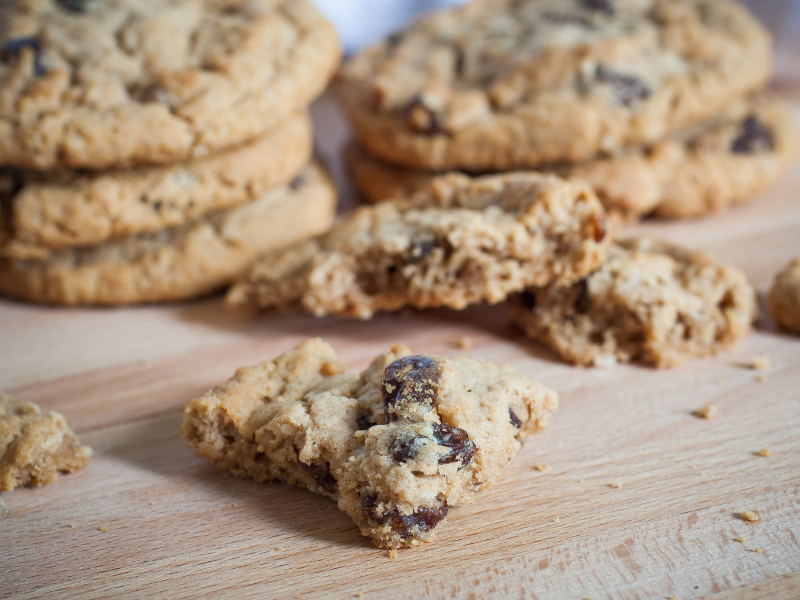 This is my mom's cookie recipe. I'm not biased; these are yummy! When I was little, she would have these made and in the cookie jar before my brother got home from school. As soon as he was in the house, she'd put a couple cookies on a napkin, and I'd sit my little legs up to the dining room table. Mmmm… These cookies taste like home.
2 eggs, beaten
1 cup butter
1 cup "healthy" sugar (such as pure cane sugar, sucanat, Rapadura, or other unrefined sugar)
1 cup brown sugar
2 cups sprouted wheat flour
1 teaspoon baking soda
1 teaspoon aluminum-free baking powder
1/2 teaspoon salt
1/2 teaspoon vanilla
1 1/2 cups oatmeal*
1/2 cup raisins
Preheat oven to 375 degrees. Combine all ingredients. Drop spoonfuls of cookie dough on cookie sheet, and bake for 10-12 minutes. Optional: Roll each cookie in healthy sugar before baking.
*Note: Since this oatmeal has not been soaked, don't eat these cookies too often.